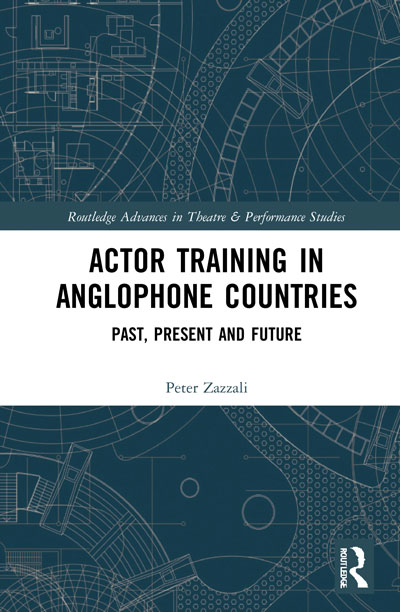 Actor Training in Anglophone Countries
Description:
Actor Training in Anglophone Countries
 offers a firsthand account of the most significant acting programs in English-speaking countries throughout the world. The culmination of archival research and fieldwork spanning six years, it is the only work of its kind that studies the history of actor training from an international perspective. It presents the current moment as crucial for student actors and those who teach them. As the profession continues to change, new and progressive approaches to training have become as urgent as they are necessary.
Using drama schools and universities as its subjects of inquiry, this book investigates acting programs in the UK, Ireland, the US, Canada, Australia, and New Zealand. Among the case studies are the Royal Academy of Dramatic Art, National Theatre School of Canada, Western Australian Academy of Performing Arts, and Carnegie Mellon University. All recognized for their distinguished reputations by industry professionals and acting teachers alike, the book examines each program's pedagogical approach, administrative structure, funding apparatus, and alumni success. In doing so, it identifies the challenges facing acting schools today and offers a new direction for training in the twenty-first century.
Reviews:
"This admirably wide-ranging and thorough excavation of the international landscape of contemporary Anglophone performer training and the entangled processes of its historical development will be of great value both to scholars of theatre practices and teachers and students of acting. Perhaps more importantly, however, Zazzali's development of a detailed critique of the paternalism, Eurocentrism, and coloniality of the field offers a timely and carefully argued rationale for widespread change. I urge readers to use the examples of resistant practices gathered here as tools to that end."
—Tom Cornford, Senior Lecturer in Theatre and Performance, The Royal Central School of Speech and Drama, University of London
"Peter Zazzali's comprehensive investigation expertly unpicks the rifts and fissures underlying contemporary actor-training across the US, Canada, UK, Australia and New Zealand. For anyone seeking to understand how it came into its present, and looking for inspiration and ideas to inform its future, this book will be the indispensable guide for some time to come."
—Mark Radvan, Senior Lecturer, Faculty of CI, Education & Social Justice, School of Creative Practice, Drama, QUT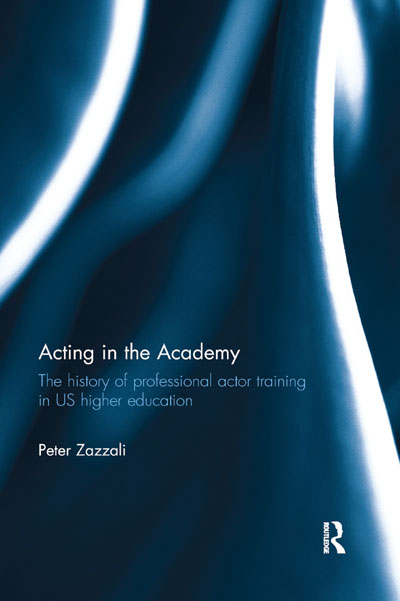 Description:
There are over 150 BFA and MFA acting programs in the US today, nearly all of which claim to prepare students for theatre careers. Peter Zazzali contends that the curricula of these courses represent an ethos that is as outdated as it is limited, given today's shrinking job market for stage actors.
Acting in the Academy traces the history of actor training in universities to make the case for a move beyond standard courses in voice and speech, movement, or performance, to develop an entrepreneurial model that motivates and encourages students to create their own employment opportunities. This book answers questions such as:
How has the League of Professional Theatre Training Programs shaped actor training in the US?
How have training programmes and the acting profession developed in relation to one another?
What impact have these developments had on American acting as an art form?
Acting in the Academy calls for a reconceptualization of actor training in the US, and looks to newly empower students of performance with a fresh, original perspective on their professional development.
Reviews:
"In Acting in the Academy, Peter Zazzali offers a critical contribution to ongoing discourse on the role, structure, and purpose of acting programs located within US academic institutions."
—Theatre Topics
"The book claims a useful place in the debates and ethics and economics of actor training, a discussion that has been furthered by Richard Schechner, Joseph Roach, and Leigh Woods, among others…"
—Theatre Journal
"Not only the level of detailed analysis–based on extensive data from several key sources (actors, lecturers, historians, statisticians, etc.)—extremely persuasive, but the book is written in an accessible style that makes it an engaging, as well as informative read."
—Stanislavski Studies
"Zazzali makes an urgent and ethical case for training programs to respond to the changing demands of the profession and to give actors the tools to shape that profession themselves."
—Journal of American Drama and Theatre
"Zazzali writes an impeccably researched, personally motivated, insightful, and incisive history of the field of actor training in the United States."
—Journal of Dramatic Theory and Criticism